- Data Covid-19 USA - World | Coro­na News | Break­ingnews | Tech­nol­o­gy | Sport | Gam­ing | Per­sons | Lifestyle | Pic­tures | Videos | Down­load | Upload | Nat­ur­al | Busi­ness | Shop | Healt | Forums |
Images or Post and Videos — press here
Tweet
tweet this Con­tent by Twit­ter, Face­book; Red­dit or oth­er Net­works, thanks!
---
---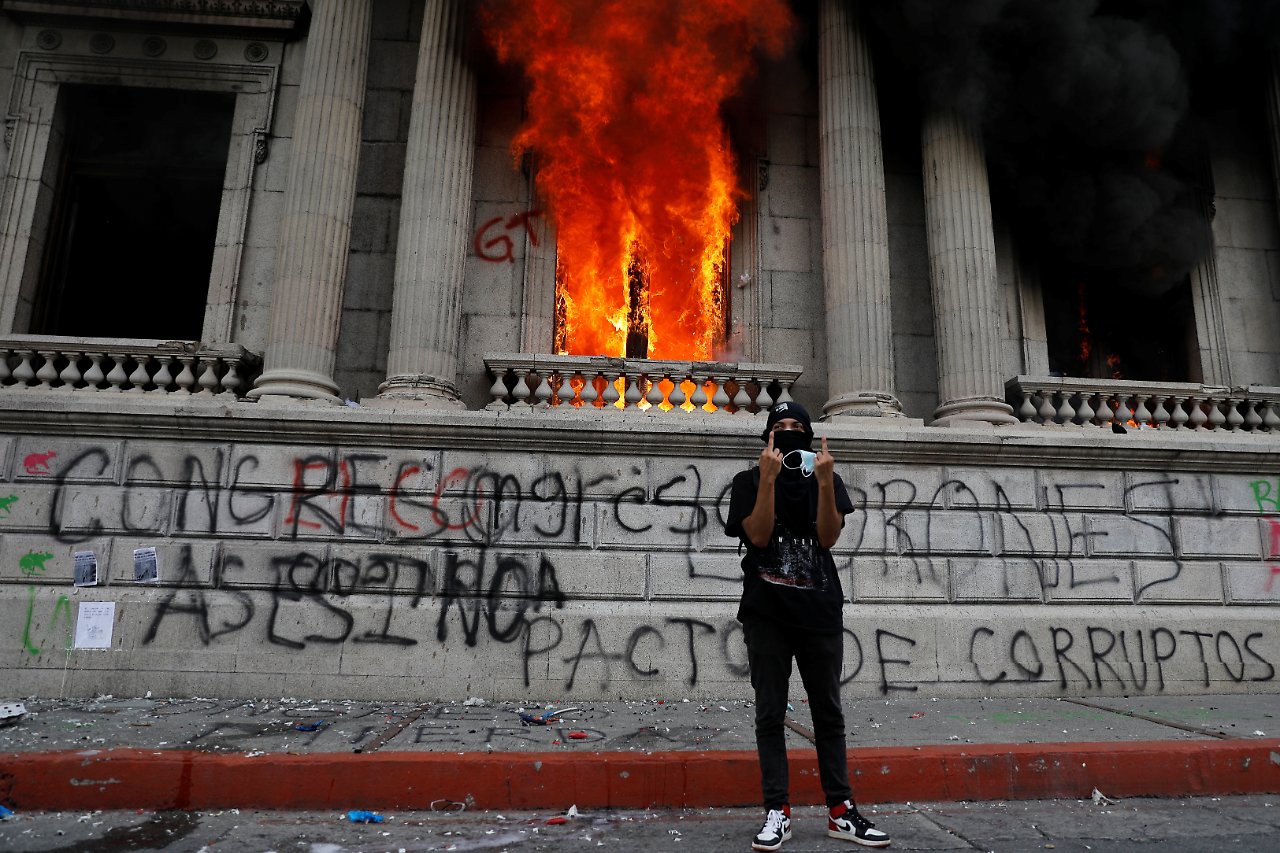 Hun­dreds of peo­ple in Guatemala march in front of par­lia­ment on Sat­ur­day, some break into the build­ing and start fires. The cause of their anger is the gov­ern­men­t's new record bud­get. He impos­es heavy debts on the peo­ple. Pro­test­ers in Guatemala City set parts of Con­gress on fire dur­ing protests against the 2021 bud­get. A group broke into the build­ing in the his­toric cen­ter of the city on Sat­ur­day and set fire to it. The tele­vi­sion showed how flames came out of a win­dow of the par­lia­ment. The fire brigade lat­er brought the fire under con­trol, the police said. On the fringes of the large­ly peace­ful demon­stra­tion, demon­stra­tors hurled stones at the police, and offi­cials fired tear gas into the crowd.
"There is a right to demon­strate," wrote Pres­i­dent Ale­jan­dro Giammat­tei on Twit­ter. "But we can­not allow pub­lic or pri­vate prop­er­ty to be destroyed. Any­one who engages in these crim­i­nal acts will face the full sever­i­ty of the law."
The demon­stra­tors called on the head of state to veto the bud­get. The bud­get for the com­ing year was last approved by the MPs in a fast-track pro­ce­dure with­out pub­lic debate. The draft met with rejec­tion from numer­ous social groups from entre­pre­neurs to social move­ments and the edu­ca­tion sec­tor to the Catholic Church. The high new debts, cuts in the social and edu­ca­tion­al sec­tor and lack of trans­paren­cy were crit­i­cized. Crit­ics accused the Con­gress of hav­ing passed the bud­get quick­ly while the peo­ple in the Cen­tral Amer­i­can coun­try had to strug­gle with the con­se­quences of the dev­as­tat­ing trop­i­cal storms "Eta" and "Iota". In addi­tion, almost 60 per­cent of Guatemala's 17 mil­lion inhab­i­tants live in pover­ty, and around half of the chil­dren under five are mal­nour­ished. The trained doc­tor Gia­mat­tei is also under crit­i­cism for his coro­na man­age­ment. The hos­pi­tals of the Cen­tral Amer­i­can coun­try are strug­gling with sup­ply bot­tle­necks. Accord­ing to offi­cial infor­ma­tion, 118,417 coro­na infec­tions have been detect­ed in Guatemala so far, 4074 infect­ed peo­ple have died.